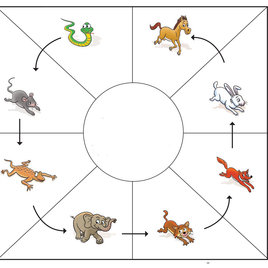 Over the years, Pratham Books have grown to publish across 20 Indian languages. The idea was to build a low cost scalable model so that children can readily access our books. Being a non-profit organisation, it was possible for us to do this. We soon saw print runs of copies when best-selling books in India at that time had print runs of copies.
By , we moved to open source licensing mechanism to help spread the reach of our books. In , we started StoryWeaver which is an online platform that pushes the idea of promoting children's reading further. When we built the platform, we had two choices. We could simply create a digital library or also build collaborative tools that would allow users to translate or version the content into languages of their choice. We felt that the latter could have greater scale and impact and so we chose that path. We launched the platform with stories from Pratham Books. All the content on the platform is Unicode compliant, which means that every word of every book is now searchable in every language and the text can be displayed on all devices.
The interesting thing is that from stories we have been able to scale to stories in two years. At Pratham Books, we published about books in 13 years. We've done more than double of that at StoryWeaver in just two years. We started with 24 languages which has jumped to Some of our stories are available in over 45 languages, including Khmer language and a few African languages. This clearly shows how our readership, though intended for India, has grown outside India as well.
We, now, have around , users on the platform. Our coverage extends beyond the metros to tier-1 and tier-2 cities as well. We enable downloads in three formats - low resolution pdfs, high resolution pdfs and epubs. Alternatively, someone can print the book and distribute it to children. StoryWeaver has enabled a number of organisations working with children to create a repository of stories in languages that are not represented in mainstream publishing. Suchana, an organization working in Birbhum, West Bengal, has translated over 60 stories to the tribal languages of Kora and Santali and printed 10, copies of these books which are distributed via mobile libraries and in after school resource centres.
We open our platform to both writers and translators so that more stories become available for children in languages which they are most comfortable with. The stories are interspersed with quality pictures by illustrators who are commissioned by Pratham Books. The interface is easy to work with making it possible for literally anyone to add their work. All the material on StoryWeaver is based on Creative Commons license that enables collaboration and reuse of our material. This enables us to build a culture of people who can create, read and use the stories.
STORYWEAVER MERCANTILE: artisan goods with a story
We've had instances where people in Africa or Canada have dipped into our material and used the stories. Another instance of a similar impact story is when the Teach for India Fellows use our material in their classrooms.
We've also had people from community associations help us out with translations. For instance, we've had great support in translating stories into Konkani through the support of the Konkani Bhasha Mandal. They've done fantastic work by translating more than stories. In recent years, our users told us of the need for non-fiction stories for children and we have created a range of STEM storybooks.
In one story, How do Aeroplanes Fly, the protagonist is a young girl, Sarla, who is fascinated with planes and grows up to become a pilot. When we tested this story with children, we found that initially there was a sense that a girl couldn't fly a plane. After the children were exposed to the story, we saw a clear attitudinal change that showed their belief changing that women can fly a plane. And that demonstrates the power that stories have to shape the worldview of children. An interesting thing that is happening in rural areas is that either volunteers or teachers take a projector to classrooms and project the stories for the children to read.
Sometimes, they hold storytelling sessions too. Teachers also download the books that are translated, say in Tamil, and print them out on half a A4 size page, thus making them quite like a storybook.
Ghost walk is a must - The Story Weaver
They bind them and distribute these to the children to read. An extension of this is when an agency goes ahead and gamifies stories, and distributes them among the urban poor. Another interesting thing that we are attempting with the stories is re-levelling. For instance, if the story is written for grade 3 children but someone feels that it can be useful for a grade 1 child, then the story can be customised for that level. Even re-levelled books retain the attribution to the original author. What are some of the key initiatives led by Pratham Books?
We organize several workshops and events that help bring greater focus on children's literature. Our missed call do, kahaani suno initiative enables children to listen to stories in English or Hindi via a missed call. We are also working on an offline, limited capacity platform with exactly the same reading experience as the online version. The intent is to help propagate the stories in areas where there is poor connectivity.
Another thing that we've noticed, particularly in underserved areas, is that children suffer because of underdeveloped vocabulary. We aim to work on this by adding audio stories to our platform. While listening to stories, children get exposed to a wider range of words and that helps them develop better. This will also expose them to correct diction, aiding its improvement. In , we launched another platform called Donate-a-book. We kept receiving requests from different quarters where people wanted us to donate books.
Being a not-for-profit organisation, we naturally had to refuse. At the same time, there were people who wrote in wanting to donate small sums of money to Pratham Books. We decided to combine the two in this platform by making it a crowd-sourced platform for setting up libraries. We also recently launched PhoneStories, an initiative that weaves together words, images and sounds to create a delightful reading experience for children.
These have been designed to be mobile first and are available at no cost so that children across the country can access them easily. How do you find authors or translators to write for your platform? What controls do you have in place? We started with putting books by Pratham Books on the StoryWeaver platform. Then we approached people who have been associated with us as authors. Another great book from Pratham and their Storyweaver platform.
Text from Password Please Manju was fascinated by locks and keys. The soft metallic sound of a key turning in a lock made her happy. The key bunch Mummy kept tied …. Two friends learn about repairing things, a shirt, an iron, a bicycle tyre.
Return Policy.
Finding Tranquility Base: A Novel?
Project gallery!
Available Sections.
Customer Reviews?
This story is about inspiring repair and not throwing away broken items to reduce our carbon footprint. See more books from Pratham in our Pratham-Storyweaver category. See more stories about animals and marine life in our …. A day in the village doing laundry is fun for everyone in this short early reader. Another great book brought to us by Pratham and Storyweaver.
This is where I live.
Happy Mother's Day from Pratham Books StoryWeaver
Today is a new day. In My Best Friend, we see how imagination and dreams can make something feel real. She lives in my house. When I am happy, so is she. When …. In Flying High, a young boy dreams he is flying high. A beautiful story for small children. The group are marching to Dandi to protest against the unfair salt tax imposed by …. This count-down style book counting down from 12 to 1, introduces readers to fascinating celestial objects, to space concepts, and to the people involved in the various facets of astronomy.
It may just inspire them to take a step towards a career in astronomy. Come, let …. Does milk come out of a packet or out of a cow?
Take your podcasts on-the-go!
Raju loves the sight of the fresh milk frothing in the bucket, but there is something he enjoys even more. Moo Moo Brown Cow is an …. Who Ate All That Up? In Off to See Spiders, we have a fun biology lesson about all the different types of spiders. They find lots of different types of spiders, and Shama helps them learn about all the different names.
The book combines some fun rhythm and …. The Race is a short picture book, perfect for pre-schoolers and kindergarteners. The simple language and repetition makes it a nice book for beginner readers.
The Story Weaver
The Story Weaver
The Story Weaver
The Story Weaver
The Story Weaver
The Story Weaver
---
Copyright 2019 - All Right Reserved
---